Side sliding garage door manufactured by Hormann, with easy access options that allow partial or full opening for both pedestrian and vehicle access. L-ribbed panelling makes for a sleek and modern appearance.
Functionality
Smooth, quiet and safe, the Hörmann HST side sliding sectional door features the world's first handle actuated, automatic wicket door function. A simple press of the handle or handset will open the door automatically to a pre-determined point. Whether access for a bicycle, motorcycle, wheelbarrow or just a person is required, the wicket door function can be set to any width that suits you, allowing you to avoid opening the entire door.
Precise and easy door travel is achieved with Hörmann's unique twin rollers that add to the stability and longevity of this door. The open ended aluminium floor rail guides the door panels securely yet is easy to keep free from leaves and dirt, essential for both the manual and automatic versions.
Features:
NEW for 2019 is the HST's floor rail as standard and continous bottom seal. These features increase both the water tightness and air permeability from class 0 to class 2, in-turn improvinginsulation and preventing elements from outside entering.
Double automatic safety cut-outs on the opening and closing cycle, plus the designed in finger trap protection, on both the inside and outside, add to the safe operation of this door.
42mm thick polyurethane insulation adds to the strength and rigidity of each panel and combined with the flexible weather resistant seals, keeps the elements out.
The Hormann HST round the corner door can be manual or electrically operated using the Hormann Bi Secur operator systems and all the superb access controls that go with the operator.
Handle Options
Manually operated doors are supplied as standard with a handle in White aluminium. Three additional colours are optionally available. The same versions are also available for automatic doors with automatic wicket function.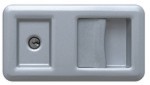 White Aluminium RAL 9006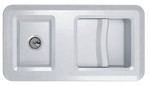 Traffic White RAL 9016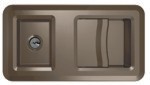 Brown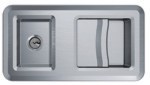 Brushed Stainless Steel