This classical style of garage door will blend with any property.
The Hormann LPU 42 S Ribbed Woodgrain sectional garage door is produced to the classical standard garage door design of narrow horizontal ribbing. Elegant and refined with perfectly formed symmetrical spacing between the ribbing, the transitions between the sections are barely visible. With four vertical ribs on each panel, four panel doors have a total of 16 horizontal ribs – all perfectly uniform.
As well as it's timeless appearance, the Hormann LPU 42 S-Ribbed sectional door has some amazing safety features including 'no crush' zones created by the unique shape of the door sections. This form of finger trap protection is actually unique to all Hormann and is a feature of all of their sectional doors. Additionally the side frames are closed from top to bottom, completely eradicating gaps between the door leaf and frame preventing fingers becoming trapped or crushed.
42mm thick 100% CFC-free rigid PU foam filled panels render this door perfect for achieving maximum insulation. The 42mm thick insulation using 100% CFC-free rigid PU foam gives the door greater stability and makes for quiet operation. If the garage is used as a working or hobby room certainly the reduction in draughts will create a more comfortable constant temperature to say nothing of the saving on energy costs. The weather seals between the panels and around the four sides of the door add even more insulation.
The finish is an attractive, authentic wood grain and the panels are coated in high-quality polyester primer – robust and tough enough to provide excellent weather resistance.
The short video below shows the unique features of a Hormann insulated sectional garage door
Surface Finishes
The Hormann S Ribbed sectional garage door is available in an authentic sawn timber look in Woodgrain.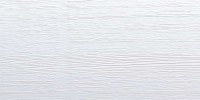 Thermal insulation
Double-skinned steel doors 42 mm
Section U = 0.50 W/m2 K
Door leaf U = 0.90 W/m2 K
Fitted door 1) U = 1.30 W/m2 K
Maximum Door Sizes
Width 5500mm Height 3000mm
Acoustic insulation
Double-skinned steel doors 42 mm R = approx. 22 dB
Wind pressure
Double-skinned steel doors 42 mm class 3
Glazing Options
16mm double pane in clear (DS) or crystal structure (DK)
Type D
Handles
The Hormann LPU 42 is manufactured with no pre-drilled handle hole as standard. This is to offer a smooth door finish on doors with electric operation which do not require a handle. If a handle is required, a selection of handles are available from the selection below at a surcharge.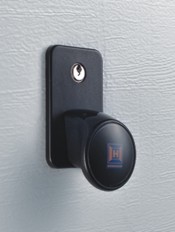 Black
synthetic plastic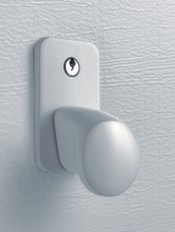 White
cast aluminium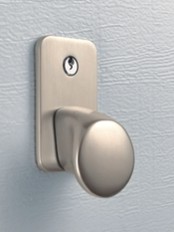 New Silver
cast aluminium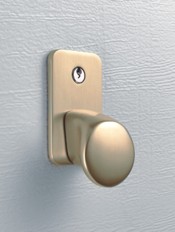 Brass
cast aluminium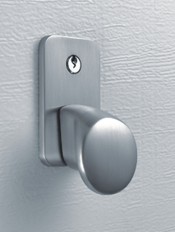 Polished
stainless steel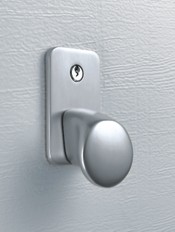 Brushed
stainless steel
Suitable Operators
Both the Hormann Promatic and the Hormann Supramatic are the perfect remote controlled operators for the Hormann LPU 42. They both come supplied with an integral receiver, automatic locking, automatic safety cut-out, emergency release from inside, and a soft start/soft stop function to minimise door wear and tear.
Hormann electric garage door operators are supplied with 2 transmitters as standard when purchased. Other remote transmitters and access control systems are available from the selection shown below and other controls are available to link in with Homelink systems and also vehicle transmitter systems.


HS 1 BS
Hand Transmitter
(1-channel)


HS 4 BS
Hand Transmitter
(4-channel)


HS 5 BS
Hand Transmitter
(5-button)


HSE 2 BS
Micro Hand Transmitter
(2-channel)