This narrow horizontal ribbing produces a classic garage door design.
Hormann LTE 42 S Ribbed Woodgrain sectional garage door has slim horizontal ribbing that is a classic design for a garage door. The ribbing is absolutely uniform and there are hardly any visible transitions between the sections thus creating an elegant, classy appearance. Each panel comprises of 4 ribs, giving a total of 16 ribs on a 4 panel sectional door.
All Hormann sectional doors come with finger trap protection on the outside and the inside of the sections and along the hinges. The single door provides low headroom as standard and door sizes over 10′  wide have low headroom options. In spite of the superb engineering qualities of this door the Hormann LTE 42 S Ribbed sectional garage is exceptionally economically priced and, indeed, this non-insulated garage door is totally suitable when there is not a need for insulation.
Hormann sectional doors all have flexible and weather resistant seals on all four sides to keep out the wind and rain. The bottom seal also has a large- sized profile lip for added protection that also accommodates slight irregularities in the floor (subject to sub frame leg adjustments).
The Hormann LTE 42 S Ribbed sectional garage comes in Traffic white as standard (although there is a super range of colour options) with a beautifully textured wood grain finish. The panel coating is polyester primer which has extremely effective weather proof properties.
Surface Finishes
The Hormann S Ribbed sectional garage door is available in an authentic sawn timber look in Woodgrain. Despite being constructed in steel, it gives a very effective visual impression of timber.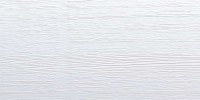 Thermal insulation
Single-skinned steel doors
Door leaf U = 6.00 W/m2 K
Fitted door 1) U = 6.40 W/m2 K
Maximum Door Sizes
Width 5000mm
Height 3000mm
Acoustic insulation
Single-skinned steel doors R = approx. 20 dB
Wind pressure
Single-skinned steel doors class 2
Glazing Options
3mm single pane in clear (FK) or crystal structure (KR) 3mm
S0 S1 S2 S10 S20
Handles
The Hormann LTE 42 is manufactured with no pre-drilled handle hole as standard. This is to offer a smooth door finish on doors with electric operation which do not require a handle. If a handle is required, a selection of handles are available from the selection below at a surcharge.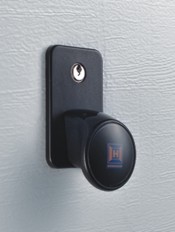 Black
synthetic plastic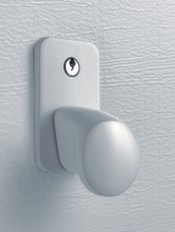 White
cast aluminium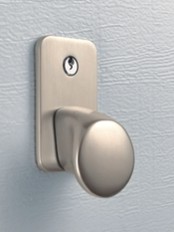 New Silver
cast aluminium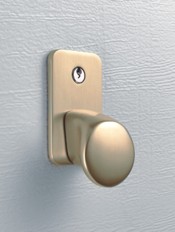 Brass
cast aluminium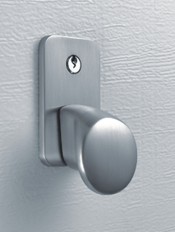 Polished
stainless steel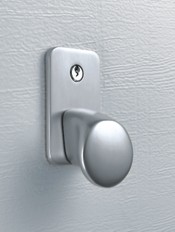 Brushed
stainless steel
Suitable Operators
Both the Hormann Promatic and the Hormann Supramatic are the perfect remote controlled operators for the Hormann LTE 42. They both come supplied with an integral receiver, automatic locking, automatic safety cut-out, emergency release from inside, and a soft start/soft stop function to minimise door wear and tear.
Hormann electric garage door operators are supplied with 2 transmitters as standard when purchased. Other remote transmitters and access control systems are available from the selection shown below and other controls are available to link in with Homelink systems and also vehicle transmitter systems.


HS 1 BS
Hand Transmitter
(1-channel)


HS 4 BS
Hand Transmitter
(4-channel)


HS 5 BS
Hand Transmitter
(5-button)


HSE 2 BS
Micro Hand Transmitter
(2-channel)